Updates, New Products, and New Options
---
Just another quick update to let you know what I've been working on and to make some low-key product announcements.
Beeman Underlever
On my last post I announced the release of the Beeman Underlever Suppressor. Now I've added a "barrel band" for mounting bipods, lasers etc…. Check that out HERE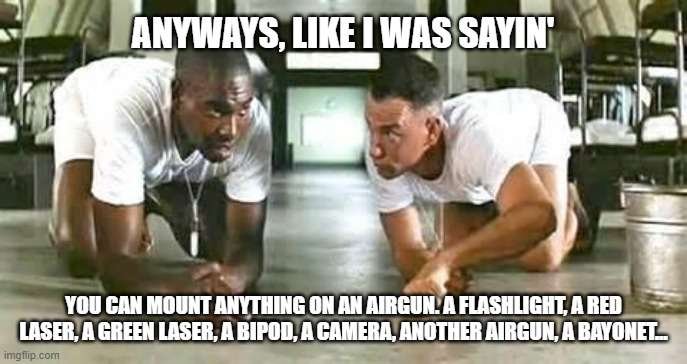 1/2-20 UNF Suppressors
I've added a .30 Caliber suppressor option to our 1/2-20 UNF Suppressor. It's larger in diameter, has thicker walls, and is compatible with .30 Caliber airguns with a 1/2-20 threaded muzzle. There is no taper on this suppressor like on our other UNFs. I haven't announced it anywhere until now and have already sold out a couple of times. Please bear with me. I make more each day and update stock daily. Check that out HERE.

1/2-20 UNF Adapters
Speaking of selling out…. I'm now having our steel 1/2-20 UNF adapters manufactured in the USA. They're working on that right now and we'll hopefully have those back in stock soon. If you're subscribed to that product you will be notified the day that I get them. There are quite a few folks on the waitlist to be notified when they are back in stock. If they go out of stock again before you can get one I should be able to get them back in stock a little quicker now!
UNI Suppressors
We use the same suppressor (with different adapters) on the 13XX, M4-177, 1077, 880, etc. Though they are not universal, they're affectionately known to us as our UNI suppressors. A lot of folks have wanted to buy the adapters alone and use the same UNI on multiple airguns. I've been hearing that request for a while now and have finally made that happen. I'm sorry it took so long! You now have the option to buy only the adapter for those airguns. Please note that the UNI suppressors and adapters are M20X2 threads. They're not compatible with anything else that I know of.
Avenger/Origin Suppressor
This suppressor is quickly becoming one of our best sellers. A common request has been to make it support the barrel to reduce barrel "whipping" etc. I've incorporated that feedback into the latest version. The suppressor now supports the barrel while still making use of the shroud volume to reduce the report.
Bulldog 357 Suppressor
You may have guessed, from the featured image above, that the trapezoidal suppressor is for the Benjamin Bulldog. It's a direct fit on the .357 Caliber model and works great. Stay tuned for that. I've also received requests to make one that is compatible with the extended reservoir. That is on my list as well.
Website Changes
First PayPal divorced us, then Stripe. Something about irreconcilable ideological differences… Anyhow, ultimately, it has been a good thing. It's been a lot of work, but we're now up and running with Authorize.net and it's way better for us and you. It's a subsidiary of Visa, is very secure, and more reliable. It also allows for more customization and gives us more tools to better serve our customers. I've also added the option to pay by check or money order in case they get weird too.
We're working hard to provide great products and great service at great prices. Thank you for the opportunity to serve you!
And that's all I have to say about that…