New Products, Promo, and Updates
---
Hey there folks. A lot going on at Buck Rail lately. Here's the highlight reel…
Air Venturi Avenger
Avenger Barrel Bands are out and I'm giving a few away. Use code FIRST20 at checkout to get one for free. Only the first 20 customers can use it. Limit one per customer. Check those out here: Avenger Barrel Band. Let me know what y'all think!
Benjamin Akela
Akela/Kratos suppressors are back in stock. I've increased the outside diameter some and tightened up the baffle inner diameter. Also, I've added a scope rail support for the Akela. This has been a common request from customers and it worked out nicely. Check that out here: Akela Scope Rail Support
Canada
We stopped shipping to Canada a while back. Canadian customs kept holding packages for "closer inspection" and it became impractical for our small business to absorb that. Wes at AirgunArcheryFun.ca will be selling our Diana AR Conversion Kits within Canada. Wes is a great guy to do business with. I've bought quite a few things from him myself and it was all top notch with great service to boot. If you'd like to see any of our other products (sorry, no suppressors) available in Canada reach out to Wes and let him know!
Beeman 2027 Work In Progress
I'm working on a tactical conversion for the Beeman 2027. This PCP pistol is a lot of fun, feature rich, and solid for the price. The stock is purdy, but a bit clunky and… well… YUGE. Seriously, you have no idea how big this thing is from the pictures.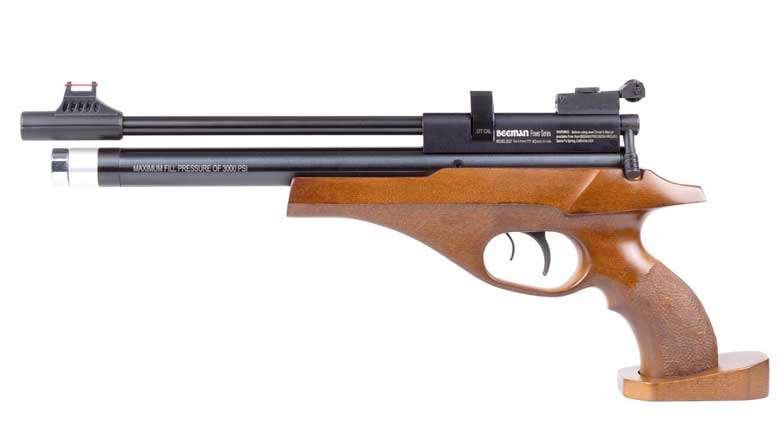 There's a lot of work to be done, yet. But I am super excited about what I have so far. The grip and rail are done, but I have a lot more work to do on the stock. I need to make the side folder mechanism (it will fold to the right), add an adjustable stock, and figure out how to keep the price low. Check out the progress:
If I work up a reasonably priced and effective side folder I will make an adapter for the 13XX, 2240, and Dianas as well. Please be patient with me while I work out the details. I don't have a release date, but will announce it here when that day comes.
Sig MCX and MPX
I made suppressors for the MCX and MPX, but they don't work worth a dang. I would be embarrassed to sell them. That's all I got on that…
Umarex Gauntlet
Another customer request has been to make the Gauntlet suppressor constrain the barrel. I'm about done with that and will have those available sometime soon. I plan on working up a few Gauntlet Barrel bands as well.
Reviews
In our early days, my kids would draw pictures on "thank you" notes for every customer. I'm sure many of you remember this. That was back when we sold three products and this business was only an experiment and homeschool lesson for my two oldest kiddos. On the flipside, many of you have sent pictures to me. I've gotten pictures of dad's shooting with their kids, tricked out airguns, I even got a picture of a Mandalorian Red Ryder conversion that included some of our parts. I've also received pictures, as evidence, of my failures as a designer, 3d printer, and a human in general (i.e. malignent mounts, repugnant rails, slanted suppressors, etc.). Sometimes pictures say it better than words. I've added an option to attach pictures to your reviews and plan on making it easier for you to share your pictures on the website. Stay tuned for more on that. In the meantime, if you feel so inclined, leave a review with a picture!
I have a mile long list of suggestions and I'm chipping away day by day. We're working hard to be worthy of your business! Thank you for your patronage and for the opportunity to serve you!
-Terry