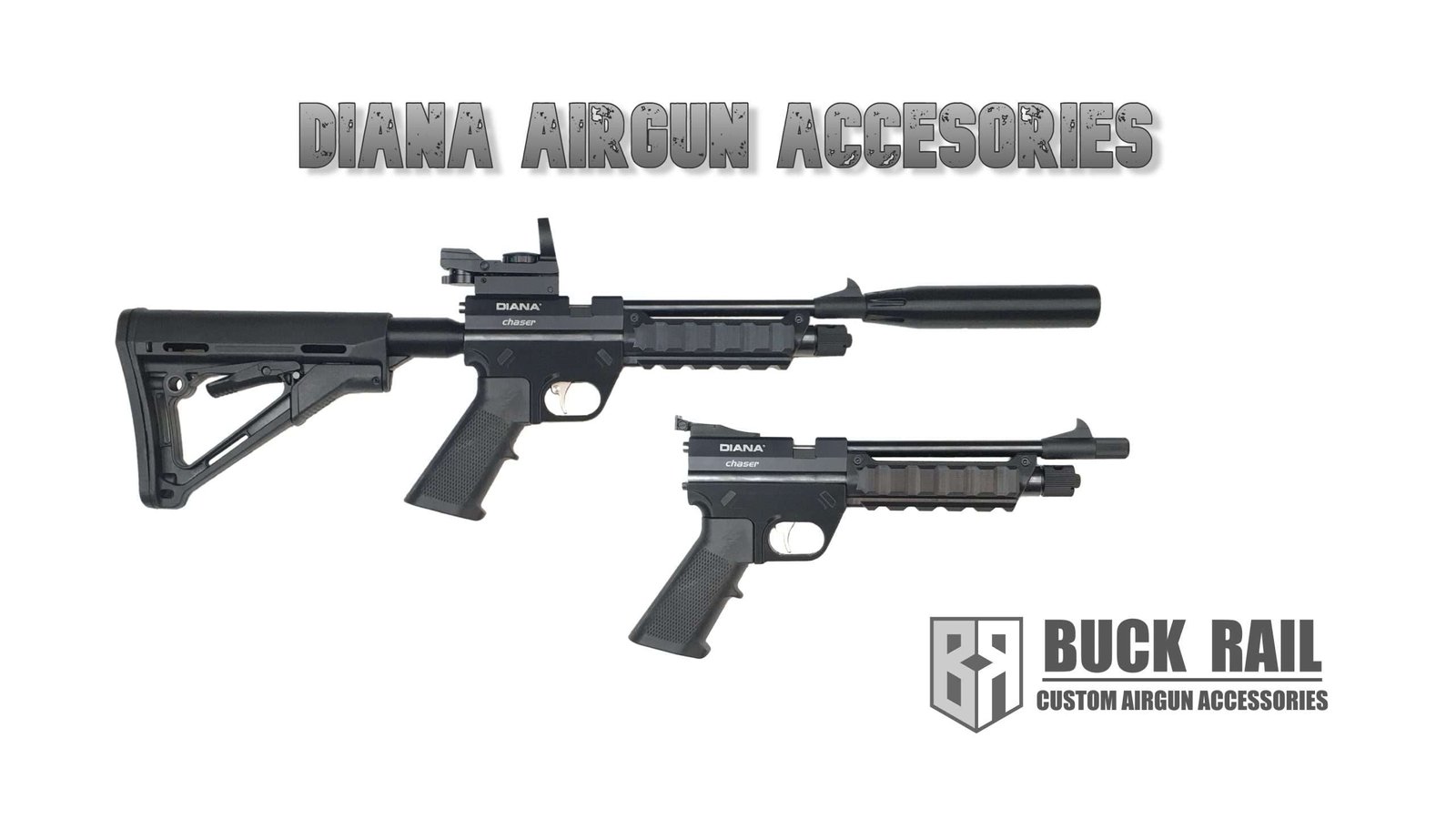 I had planned to put new product design on the back burner and focus more on the business side of Buck Rail in early 2022, but as soon as I started web-developing, spreadsheeting, and process planning I would get a new idea and then another… business fell by the wayside and I came up with another thingymajig and then another. We're only 12 days in and I have already accepted defeat. I'm a designer first and a businessman second. Time will tell if that's bad or good…
The Diana Chaser, Bandit, Airbug, and Stormrider have been a recurring theme in customer emails lately and for good reason. I've heard you and hope to deliver. I've added a Tri-Rail for the Chaser, Airbug, Bandit, etc. I've changed the dimensions slightly to provide a better fit and easier installation. Check those out here: Diana Barrel Band
I've bought a Stormrider, Airbug, and Bandit to confirm that it works well on those airguns as well and to see if I can come up with something for each of them. For starters, I've made a lot of progress on a replacement for the stock/grip on the Chaser, Bandit, and Airbug. I've designed and refined a part to convert the Diana Chaser, Airbug, and Bandit to an AR style grip:
So far, testing has been very promising. I've refined it a lot and am very close to releasing it. I'm also working on a forearm/tri-rail to accompany the new grip conversion:
Changing the stock allows you to access the hammer spring retention cap so that you can adapt an adjustable stock. I still have some work to do in order to make the buffer tube a tight fit. I'll need to work with another manufacturer to make a steel or aluminum adapter for the buffer tube, but that should be pretty simple once I have the funds. Here's a preview of the whole getup:
I've printed a bunch of the forearms and grip conversions. I've received all the hardware. I've ordered a bunch of Made in America grips. Once I receive all of those I will get the grip conversion and forearms listed at a great price. The adjustable stock conversion will come later!
Thanks for lookin' y'all!
-Terry