The Daisy Red Ryder VS The Buck 105 For Young Shooters
The Daisy Red Ryder is the most popular BB Gun ever made. It is a timeless design and is still just as much fun for an adult as it is for kids. The Daisy Buck 105 is the Red Ryder's little brother, but definitely has it's advantages. In this article I'd like to briefly point out two major strengths and weaknesses in comparison to the other. I think it comes down to size, looks, and price. Originally I published this article to say, "size and power." It has since changed and you'll find out why below.
Side-By-Side Comparison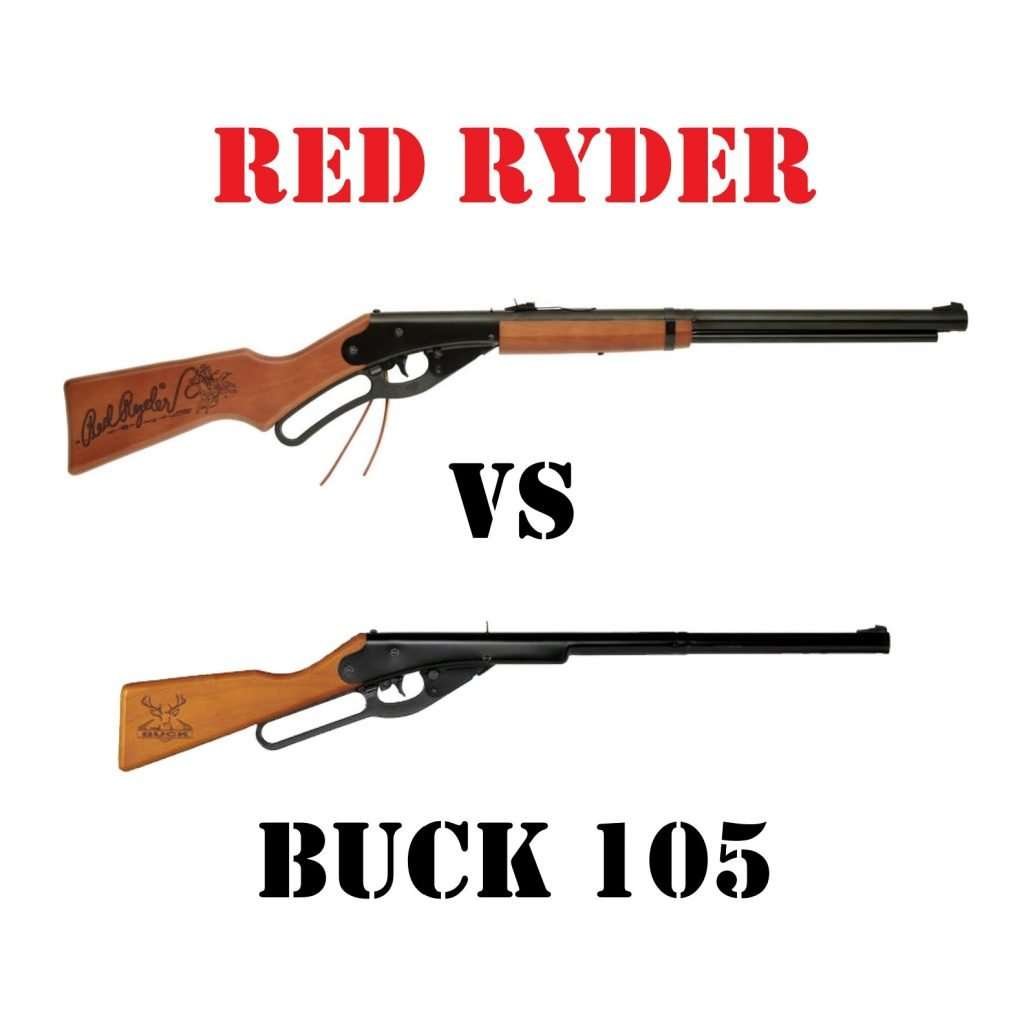 The Size Makes a Difference
As you can see there is definitely a significant size difference. That's one of the most important differences and a huge deciding factor in which one to purchase for younger children or adults. According to Daisy, both guns are recommended for kids 10 and older. If you're in the market for a kid who is younger than that I'd say the Buck will easily be the best way to go. My 10 year old loves his Daisy Red Ryder, but still prefers his little sisters Buck because it's so much easier for him to handle
We Need More Powa!
It's not listed in the chart, but Daisy lists the two guns with significant power differences. They claim the Red Ryder shoots at 350 FPS while little brother Buck is just pushing 275 FPS. The only problem is that they have exactly the same powerplant and have been tested to average the same muzzle velocity at around 275 FPS. But don't lose hope… There is a way to get more power from both. A lot more power! Find out more HERE.
Other Considerations
Looks is certainly something to think about after considering usability. What good is a good looking gun the kid cant comfortably shoot? As far as that goes those differences are obvious. The Red Ryder basically has some features that the Buck lacks. There is a longer butt, longer barrel, forearm grip, small faux magazine under the barrel, and a "saddle ring with a leather thong." Apart from those things there aren't much differences.
There is, however an adjustable(elevation) open rear sight on the Red Ryder. The Buck only has a fixed rear sight. You can add a scope base to the Daisy Buck or Red Ryder and mount an optic that allows for a more precise and adjustable sight picture.
Price
On 8/20/2019 the price for the Red Ryder Model 1938 is $25 on Amazon and the Daisy Buck 105 is $18. Both are incredibly cheap and you get a lot for your money, but $7 is a pretty significant price difference at that price range. Especially considering that you are not necessarily paying for better performance.
Summary
The Red Ryder may be the winner for bigger kids and adults due to it's larger size and forearm grip, but the Buck is the only choice for the younger ones and those on a tight budget.
Modifications and Accessories
Modifications and accessories can really change the game. For instance, you can cut down the stock and make the trigger more sensitive to make the Red Ryder more comfortable for younger kids. Also, you can add a scope or other optics to the Red Ryder using aftermarket scope mounts. Many Buck and Red Ryder parts are also interchangeable and can be switched to suit your needs.
With The Little Buck Rail, you can also mount a scope on the Daisy Buck. I've also added folding bipods that are compatible with the Buck and I've developed an adapter to mount a Bipod or other under-barrel accessory on the Red Ryder as well. Thanks for reading!