Starting Friday, July 1st, we'll be raising prices on many of our items.
I don't take this lightly, so let me give you a lengthy explanation. This business started as a lesson for my kids. At the time, I was a full-time welder in the Oil and Gas industry and a hobbyist designer and 3d printer. After developing the Little Buck Rail for my daughter to use a Red Dot on the Daisy Buck I thought other folks may want one too and started a little business that would be operated mostly by them. My eldest son would 3d print Little Buck Rails, and him and little sister would write thank you notes with hand drawn pictures. Mom would ship and they'd make a few bucks here and there.
Confession time: Not intending to do anything more than the Little Buck Rail, I wanted to name the website "buckrail.com". Unfortunately, that domain name was taken by a news company in Jackson, Wyoming. So I made the brilliant decision to add a hyphen between buck and rail. I guess that's better than "A1Airguns.com" (I just looked it up. That's a real domain…) Can you even look up websites in alphabetical order?…
Anyway, we're coming up on three years in business. Much to my amazement, and the amazement of friends and family, we've grown way beyond a business lesson or side-gig (I left full-time employment in the Aerospace industry in November 2021) and will likely grow beyond a home-based business soon.
Our product line has expanded rapidly and we're only just getting started. There is way more demand for this stuff than I imagined and will work hard to be the one that provides it. We now keep almost 40 3d printers running 24/7 and barely keep up with demand. The only reason we don't run more is because we've maxed out our breaker box (I'm working on that!). Instead of raising prices to match demand we just work harder and longer hours and find ways to decrease costs and increase production while still providing great value products. This has worked well for us so far and has allowed us to keep prices low while everything is going up elsewhere. With that being said, the cost of doing business has increased significantly as we've scaled up. In order to continue providing great products at great prices I need to increase prices. I'll continue working hard to make our products accessible to the little guys and provide the BEST VALUE out there.
Speaking of value, check out what my fellow Texan and Buck-Rail.com customer did earlier this year. He bought a suppressor from us for $20 or $25 (the older UNF suppressor with helical insert and smooth finish), took a very blurry picture of it, and auctioned it on eBay, with little to no description, for over $40!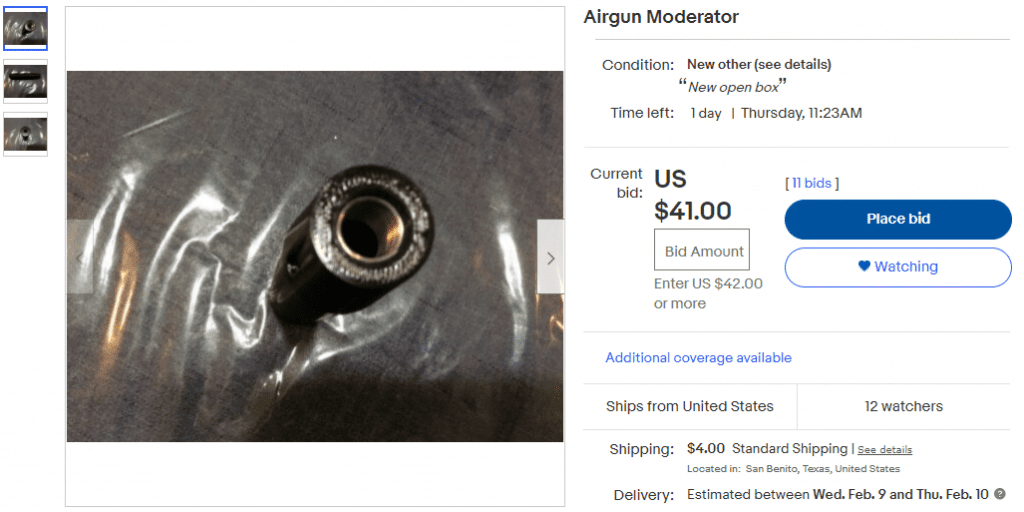 Thank you for your understanding and thank you for the opportunity to serve you!