Daisy Red Ryder Under-Barrel Rail Update
I've been trying to perfect this under barrel rail mount for the Red Ryder. I'm technically on version 6, but the first 5 were essentially the same with small changes. The latest is 2 pieces rather than one. There has been a lot of interest. I'm surprised to find out that folks want to mount flashlights and lasers as well. The more my son uses the first version(view that post here) the looser it gets. It can slide up and down the tube beneath the barrel. It works for him and he really likes it, but he's pretty easy to please. In this post I'll briefly cover some of the obstacles and what my brother and I came up with for a solution.
---
The Obstacles
There are a few problems with a one-piece polymer rail. You can slide the adapter rail down the lower tube or have it snap onto the lower tube.The first obstacle to getting the rail adapter to slide over the lower tube is the tab that is used to weld the smaller tube to the larger. The hole in the adapter needs to allow for the tab to slide through and reduces the amount of surface area for gripping the tube.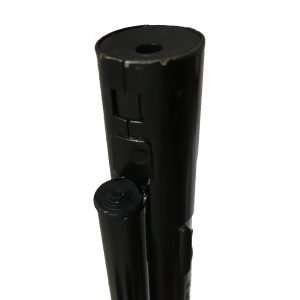 Once I got the adapter to slide over the tab the next issue was that the lower tube is not perfectly parallel to the upper. Notice the air gap between the upper and lower tube. If the adapter is made to firmly clutch the lower tube at the front while simultaneously pushing up against the upper tube it will get looser and looser as you slide it toward the forearm grip.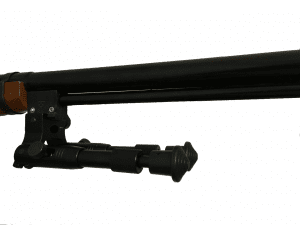 Other Options
Another option is to make the one-piece adapter snap onto the lower tube rather than slide one. Either way, if it can snap on or slide on it can probably snap off or slide off. I don't like the idea of adding set screws, or gluing, or taping because all of those can damage the airgun and aren't exactly dummy-proof. I messaged with Cobalt327 from thehighroad.org forum and he confirmed that it's best not to do anything that would alter the original gun, such as screwing into the forearm grip.
The Solution
Fortunately, I mentioned the problem I'm having with the rail to my brother. He came up with the simple idea of making it a two-piece clamp. The final version is a two-piece adapter that uses screws with embedded nuts to clamp the picatinny rail to the lower tube. I've tested it and it is VERY secure. I've been pretty busy, but I'll be posting these for sale in the coming weeks. Thanks for reading and stay tuned!