Umarex Notos and Artemis PP750
---
I've completed the Umarex Notos and PP750 Tactical Conversion Kits. The Grip Adapter is made in the USA using PA12 Fused Nylon. The Side Folder and Extension Tube are made in the USA UTG Pro. The stock option will be Made in the USA Magpul MOE only or no stock. You'll be able to choose from with or without Cheek Riser. If you want to use the OEM iron sights you won't want a riser installed. Folks who want to mount a scope, especially with high rings to clear expanded mags, will need that riser. The handguard is mlok, but I'll also be releasing an affordable, customizable, pic rail kit at the same time. I make the handguard myself from ASA.

I just ordered 40 of the grip adapters. A few of those will go to our friends and we should have about 35 available for the first run. I usually do more on a first run, but if they don't sell it puts me in a bind. The JTS kit was a BIG punch in the gut. I'm trying something different with these as I'd like to not go broke, if I can help it.
Semi-Auto to Full Auto Conversion Kit
---
I've had this idea for a while, but it's always been on the backburner as it's just for my own enjoyment. I had a little time recently to throw something together. Its a kit that uses a small DC gearmotor, cam, and motor controller to fire a semi-auto airgun. The rate of fire is set with a potentiometer. In this particular iteration I'm using a 400 rpm gear motor, but it could just as easily be a 1000 rpm motor if the airgun can cycle that fast. I already had a Hatsan Sortie that I don't shoot much so I started with that. This is the first "working" prototype. It's a work in progress. Spoiler alert, it jams a lot.
Is the YouTube embed not working in this email? Try this link https://youtube.com/shorts/he0sCk76IpA
I'll likely do the same thing for a Benjamin Semi-Auto Marauder next. Eventually I'll want to move up to a Bin Tac B&W S45. Stay tuned for that.
Crosman Products
---
I've just listed some Crosman parts and I have more on the way. So far, we have the following available at great prices, with great service, fast free shipping and SMALL quantities:
LPA MIM Rear Sight for the steel breech
14.6 inch Crosman Barrel in .22 Caliber
Steel Breech in .177 Caliber
Power Adjusters for the 2240 etc.
Price Increases
---
I know I know. You came here expecting a sale and I tell you we're raising prices. There is indeed a one-time big Buck Rail sale coming. I'll tell you about that next. Many of our 3d printed items are printed in a material called ABS. It's a great material and has served us well. There is another material that is much like ABS, but has better UV resistance, called ASA. I've wanted to switch to ASA for a long time, but I knew it was going to be a big undertaking with over 40 machines running 24/7 and over 100 print variations. Recently, we got news from our supplier that we weren't going to be able to acquire any ABS for two months. That forced my hand. I put on my man-britches and made the switch. The product will stand up to the outdoors better and the finish will be much improved on many of our accessories. The downfall, it costs three times as much. Don't worry, I'm not raising prices 300%. The material is a small part of the cost for a lot of our items. The increase will be closer to about 20% on our items that were formerly printed in ABS. The UNF suppressors and other Polycarbonate and MJF Nylon items will not be affected.
Flat Dark Earth
---
Another benefit of switching to ASA is that I found a beautiful Flat Dark Earth ASA that matched Magpul FDE. It's even pricier, but it looks amazing. If y'all are interested in this let me know in the comments. What would you like to see in FDE?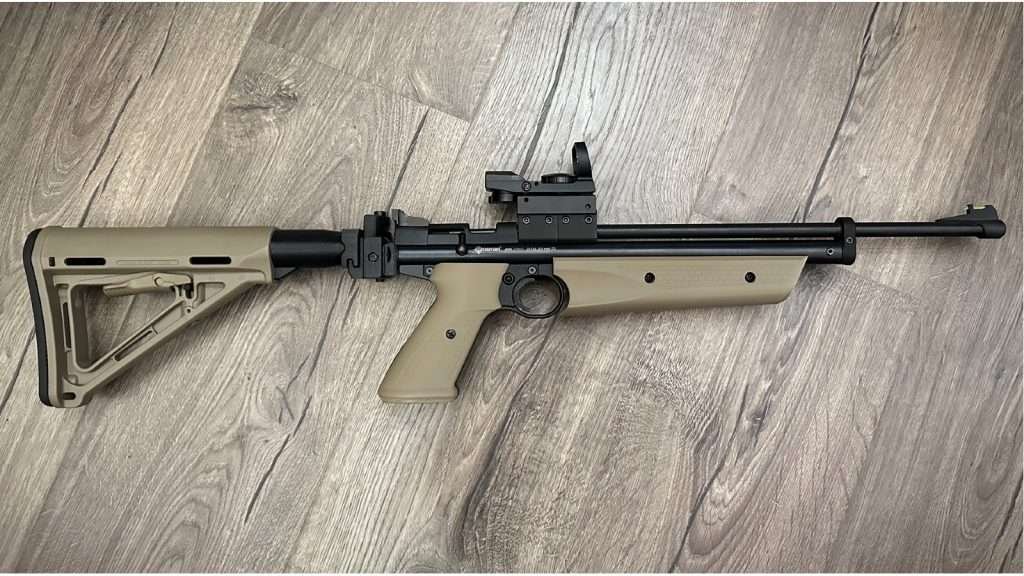 The Big Buck Rail Sale
---
It's actually not a Labor Day Sale. I want to keep prices low all the time and not play with people's minds. The reason for the sale is so that y'all can buy up whatever ABS parts you're are on the fence about before I raise prices. Just a show of good faith to the folks who've supported us over the years. Starting September 3rd and running all the way to September 8th all ABS items will be 20% off. Price increases will take affect on September 9th. If you love me, please don't tell too many folks about it. I'm already maxxed out and I don't want to get overrun. I also want our loyal customers to be able to get what they're looking for. If something goes out of stock I'll be working to restock it ASAP.
Thank you
---
Speaking of loyal customers, this newsletter is going out to 2000+ folks. I'm not trying to be too sappy, but that makes me real happy. Parts need to get churned out, I sometimes get burned out. I hope y'all are knowin', your support keeps me goin'. Sorry, I'm done…
…Just havin' fun,
– Terry