DonnyFL QD Adapters
---
We've just added quick disconnect suppressor adapters from DonnyFL. These will allow you to turn your Tatsu, Tanto, Sumo, Koi, etc. into QD suppressors. Check those out here: Old Mod QD Adapters Not only are these just plain cool, but this will also help to ensure your suppressor is clocked the same every time you reinstall or move from airgun to airgun. Speaking of airgun to airgun, we've also added the threaded QD adapters for if you have multiple airguns that you'd like to use the same QD suppressor on. Check those out here: Male QD Adapter Only
We'll also be adding the new JTS Airacuda threaded adapters and their new Ryu and Yokozuna suppressors. Stay tuned for that.
Checkout Changes
---
From now on our customers will be required to enter a phone number at checkout. In the early days I required phone numbers. I got a few complaints here and there so I eventually made it optional. That has created some issues for us. We need a phone number for international orders for customs clearance and we need phone numbers so that we can call folks and confirm an order if fraud warnings are triggered by our payment processor, authorize.net. If you're in the US and not comfortable giving your phone number you can enter random digits. If the order is suspicious (mismatched billing information, etc.) and we cannot reach you we will cancel the order and refund. If it is an international order and an invalid phone number is given we will cancel the order and refund. We do not sell your information and use it in no other way than fulfilling orders. Thank you for your understanding!
UX Origin
---
The Umarex Origin Tactical design is well underway. I already have the handguard dialed in (It's an Avenger Handguard for two tubes instead of three) and I'll place an order for grip adapter prototypes soon.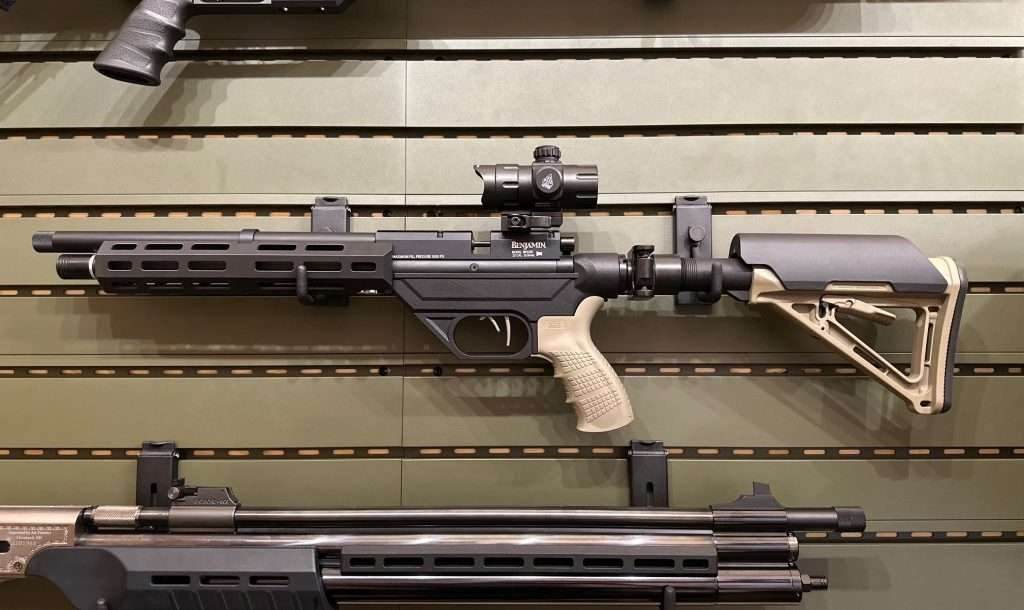 P-Rod Kits
---
I have the first P-Rod prototypes in hand. There are some minor changes to be made, but I was able to hand work this one to get it fitted up. It's a big improvement over the original design. It is more durable, more functional, and has a much improved finish. Just need to remove a little material here and there, order prototypes, test etc. and we'll be good to go.
A Joke With Promise
---
I was disappointed when we started the Beeman Marshall Carbine kits and got word from Beeman that they would have to sell us the Marshalls with the chonky wood grips installed. I moved forward anyway and figured we'd find a use for the grips. As our collection built up my sister made a joke that we should turn them into bookends and sell them. As I tend to do sometimes I took the joke very seriously and gave it a shot. I posted some pictures on social media and a friend of ours gave them a name. I present to you Buck Rail's Buckends:
This will help us keep the price for the Beeman Carbines down, produce less waste, and offer a unique product for the well read airgunner. I already have a few of the plates cut, bent and anodized. I'm just waiting on some threaded inserts and screws to come in and I'll be ready to list these.
Speaking of the well read, thank you for taking the time to read this little newsletter. If you've made it this far, this part is for you. For personal reasons, I'll be slowing down a bit for the rest of the year. I'll finish up a few of the projects that I'm currently working on and then focus on keeping up with manufacturing and order fulfillment. I expect I'll need to conserve my energy for this holiday season anyway. Early next year I'll be focused on moving my family and the business to a place that will allow us a little more room to work with as both family and business have outgrown the little space we're in.
I still have a lot of big plans and ideas that I'd like to bring to market. I'll keep chipping away at it. Thank you for your business, your support, and for the opportunity to serve you. It's not taken for granted and we'll keep working hard to earn it.
Sincerely,
Terry Harman